Rouquel Ponte is an incumbent member of the CFC International Council.
Biography
Edit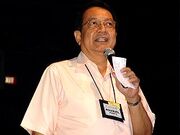 Rouquel Ponte was first elected to the International Council in June 1993, right after Couples for Christ was spun off from the Ang Ligaya ng Panginoon, CFC's mother community. He has been in the Council for 15 years.
Rouquel and wife Nina (nee Faustino) attended their Christian Life Program in August 1982 at the Corinthian Gardens home of Paquito and Pinky Tanjangco. At present, aside from being a member of the International Council, he is also a member of the Gawad Kalinga Board, Pro-Life Director and International Missions Director. Nina is an artist and writer and is a much-sought after training consultant. She likes to say that, like a good CFC wife, her major service is to be a good wife and to fully and wholeheartedly support her husband in the performance of his pastoral and service duties.
Rouquel and Nina were wed on January 10, 1976 and have a daughter, Ma-an (Fatima Antonia) who is a graduating medical student from the UERMMC. Ma-an is active in Singles for Christ.
Rouquel speaks of the grace of being a servant and how he is able to balance his service and his personal responsibilities: "Being a member of the International Council presents a challenge to personal and family life, especially because of my full schedule and the frequent traveling I have to do as part of my mission responsibilities. Being in the IC gives me an opportunity and privilege to serve God and the CFC community. I need the special grace of God, a strong personal prayer life, grounding in the Scriptures and a solid sacramental life, as well as the strong support of Nina and Ma-an and of course the entire community in order for me to do the work God has given. The recent trials that we faced as a community shook us but it did not destroy us because of our prayers and our reliance on God as our protector and guide. I believe the crisis was our moment of grace. The Lord wants to move us to a higher plane so that we can be more fruitful in our service to Him and to humankind."
http://couplesforchristglobal.org/v2.1/index.php?option=com_content&task=view&id=20&Itemid=53
Ad blocker interference detected!
Wikia is a free-to-use site that makes money from advertising. We have a modified experience for viewers using ad blockers

Wikia is not accessible if you've made further modifications. Remove the custom ad blocker rule(s) and the page will load as expected.