Melo Villaroman, Jr., is an incumbent member of the CFC International Council.
Biography
Edit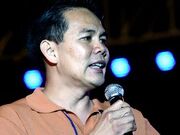 Melo is the youngest among the seven Council members. But he has equally impressive credentials. He graduated cum laude with a Bachelor of Science degree in Business Economics from the University of the Philippines in 1984.
He worked with Procter & Gamble Company for 22 years, the last 12 years of which were with P&G Asia based in Singapore. His last assignment in P&G was Director for Customer Business Development covering the countries of ASEAN, India, China and Japan.
In December 2005, at age 42, he retired from this very lucrative and challenging job to go back to the Philippines and serve as a full-time mission volunteer in Gawad Kalinga. He was the most surprised when, after two years of dedicated service in GK, he was nominated and elected to the CFC International Council on June 22, 2007. As Council member, Melo has oversight responsibilities over the Family Ministries. He has also been appointed as Home Office Director where he is putting his administrative and human resource skills to work, transforming the Home Office into what he calls "the Heart, the Home and the Hands of our CFC vision and mission."
According to Melo, the Home Office radiates "the Heart of God's presence in our community." It also should be "the Home...where members (gain) experience of our Father's love, guidance and joy." The Home Office is also tasked to be "the helpful Hands that enable God's work—effective, efficient and faithful."
Melo is happily married to Nini (for 18 years) and very proud of his two sons, Dave, 17, and Sam, 11. His whole family serves in Couples for Christ and its Family Ministries (Singapore, Malaysia, and Philippines).
http://couplesforchristglobal.org/v2.1/index.php?option=com_content&task=view&id=20&Itemid=53
Ad blocker interference detected!
Wikia is a free-to-use site that makes money from advertising. We have a modified experience for viewers using ad blockers

Wikia is not accessible if you've made further modifications. Remove the custom ad blocker rule(s) and the page will load as expected.