Joey Arguelles is an incumbent member of the CFC International Council.
Biography
Edit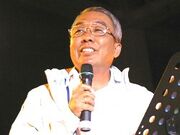 Joey Arguelles is a very unassuming person, and he himself will tell you that he is a promdi, (slang for "from the province") complete with Batangueno accent. But his dedication and commitment to Couples for Christ is unquestioned. He and wife Tess (nee Evangelista) attended the Christian Life Program in 1987 in Batangas City and they have never looked back.
Joey graduated with degrees in Commerce and Management and worked in various positions in government, among them in the Records Section of the Rizal Provincial Hospital, as regional budget officer of the Department of Social Welfare and Development for Region 4 and finally as Executive Assistant to the then Governor of Batangas until 1990. He even tried his hand at business when he opened, in 1990, his own restaurant and catering business together with wife Tess. He left all these in 1991 when he became a full-time worker for CFC Batangas. "I could no longer reconcile my being a member of Couples for Christ with the demands and the worldly lures of my public administration career. I chose the work of the Lord and I have never regretted it."
Like everyone else, Joey has run the gamut of service within CFC—from being household head, to unit head, to chapter head and provincial area head of CFC Batangas. He has also served as Regional Area Head for Bicol, and now, as an elected member of the International Council, as Luzon Mission Director.
Joey and Tess were married on October 10, 1964. Their union has borne five children: Ma. Teresita, a dentist and member of the Singles for Christ; Ma. Josefina, a doctor connected with Philhealth and Provincial Coordinator for SFC Batangas; Ma. Antoniette, a lawyer connected with Robinson Land and a chapter head in SFC; Joselito, an assistant manager at Metrobank who is a sector head in SFC; and Ma. Zarah Charisma, now working fulltime at the Home Office as Events Manager with GKom. She is a household head with SFC.
Joey has a very simple philosophy, one that has stood him in good stead, even in the face of the trials and difficulties of 2007: Fix our eyes on Jesus. He is in control!
http://couplesforchristglobal.org/v2.1/index.php?option=com_content&task=view&id=20&Itemid=53